"Religio" wishes to be open to the spiritual, religious, oecumenical and ethical dimension of our lives... "linked" as we are to one another by the need and the duty of love, and respectful of the beliefs, the values and the needs of each other. We will include links or informations pertinent to your reflexions, meditations, and questionning... remembering at all time that the spiritual dimension of our lives is before all an act of prayer... "God come to my assistance, Lord to our help !"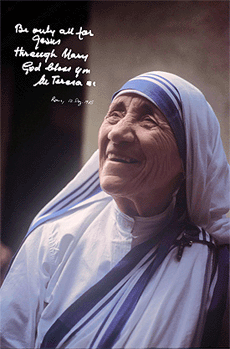 Spread love everywhere you go, but first and foremost in your home. Love your children, your spouse, your neighbour... Let no one who comes to you, leave without being better and happier. Be the living expression of goodness, be it the goodnes of your face, goodness of your eyes, goodness of your smile or the goodness of your warm welcome. Mother Teresa
---
Anglophone religious links...

430 links

---
I have the everlasting conviction that any human being, however devoid of natural gifts, can penetrate to the kingdom of truth reserved for genius, if only he or she longs for truth and is willing to concentrate all attention.
Attention consists of suspending our thought, leaving it detached, empty, ready to be penetrated by the thing or person we face.
It means holding in our minds, within reach of this thought but on a lower level and not in contact with it, the knowledge we have acquired about that thing or person.
Our way of thinking is like a woman on a mountain who, as she looks forward, sees also below her, without actually looking at them, a great many forests and plains.
In this way our thought should be silent, empty, waiting, not seeking anything, but ready to receive in its naked truth the thing or the person we face.
Simone Weil (1909 - 1943)
...those who possess the virtue of discretion ...when they have rendered what is due to Me and to themselves, they proceed to render to their neighbor their principal debt of love, and of humble and continuous prayer, which all should pay to each other, and further, the debt of doctrine, and example of a holy and honorable life, counseling and helping others according to their needs for salvation.
The dialogue of the seraphic virgin Catherine of Siena
A treatise of discretion RTFToC17